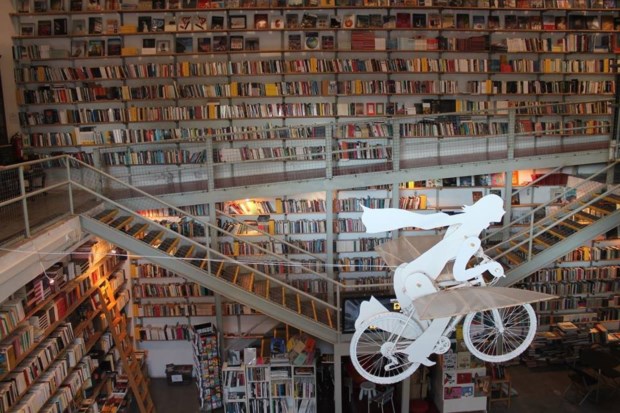 The Guardian newspaper chose the "ten spaces more industrial and chic" in the world. The Ler Devagar ("Read Slowly in english) is one of them. The "flying bicycle" definitely helps.
They were warehouses, underground car parks, garages, factories and even a swimming pool. Now they are "cool conceptual spaces" where "the design is as attractive as what they have to offer as shops, showrooms, restaurants, bars". Or bookstores.
Among the 10 selected around the world - from France, to United States, Japan, Serbia - there are two book houses: the Librairie Avant-Garde, installed in a former underground car park in Nanjing, Chine, and the Lisbon Ler Devagar, an independent bookstore that opened in 1999 in Bairro Alto, and that after successive house moves, seems to have finally settled their endless bookshelves in Lx Factory (since 2009).
It was this huge high standing old printing house room, with its literature and colorful book spines, that filled the eye of the british newspaper. "If you've always wanted to see a huge wall of books, the Ler Devagar is a good place to go", the paper's authors ensure.
Here "the books are stacked almost to the top of the high ceiling (the equivalent of three floors), while the metal stairs and industrial air balconies lead you to the first floor and around the store". The space doens't has the "moldy" and "dark" enviornment of the typical old bookstores that "fill most of literary fantasies" but "in many ways, the salvaged interior teases the imagination just as a bookstore should do" says the Guardian.
In addition to the exhibited books, highlight for the sculptures, "being the most prominent a flying byclicle hanging from the cieling", which has become the store brand image, and two bars, that give a "pretty social and creative enviornment".